Compatible Vehicles 
BMW X5(E70) 2007, 2008, 2009, 2010, 2011, 2012, 2013, 2014 with CCC/CIC system
BMW X6(E71) 2007, 2008, 2009, 2010, 2011, 2012, 2013, 2014 with CCC/CIC system
BMW X6(E72) 2009, 2010 with CCC/CIC system
1、Make sure the original system has AUX function.
2、Make ascertain your car is CCC, CIC OR NBT system, check the LVDS Socket ( CCC=10 pin; CIC=4 pin; NBT=6 pin).
3、 If you still not clear about it, please contact the shopkeeper with chassis number, years and dashboard photo.
(Email: ewaying@ewaygps.com ; Whatsapp : +86-19112627330)
Product Features 
*Support all functions of the original car. Plug and play.
 Qualcomm Snapdragon 625 processor(MSM8953  Eight-core A53 2.0GHz)
  Octa-Core 4G RAM+64G ROM Android 9 Operating System
  1280*480 IPS High resolution
*Support Phone Mirror Link(IOS&Android)
*Built-in sygic navigation app,Support online and offline maps
*High quality bluetooth voice call
*Support Steering wheel control
*Support original car rear camera and parking sensor
*Optional Accessories to perfect your user Experience

After Installation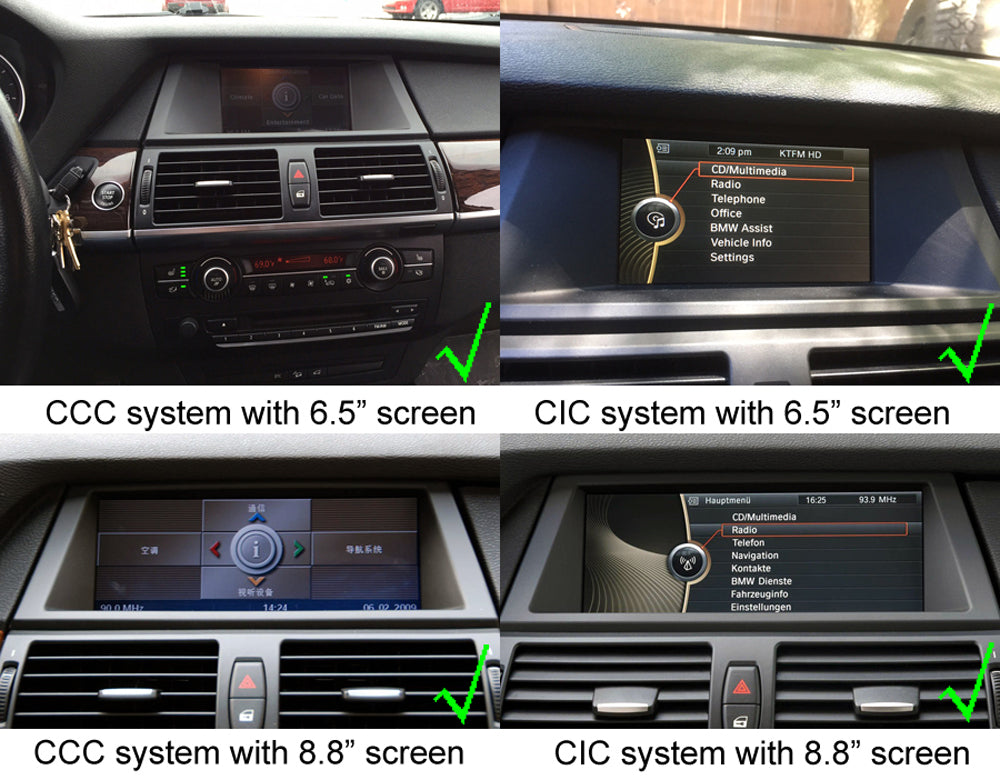 Top Hardware Configuration with Latest OS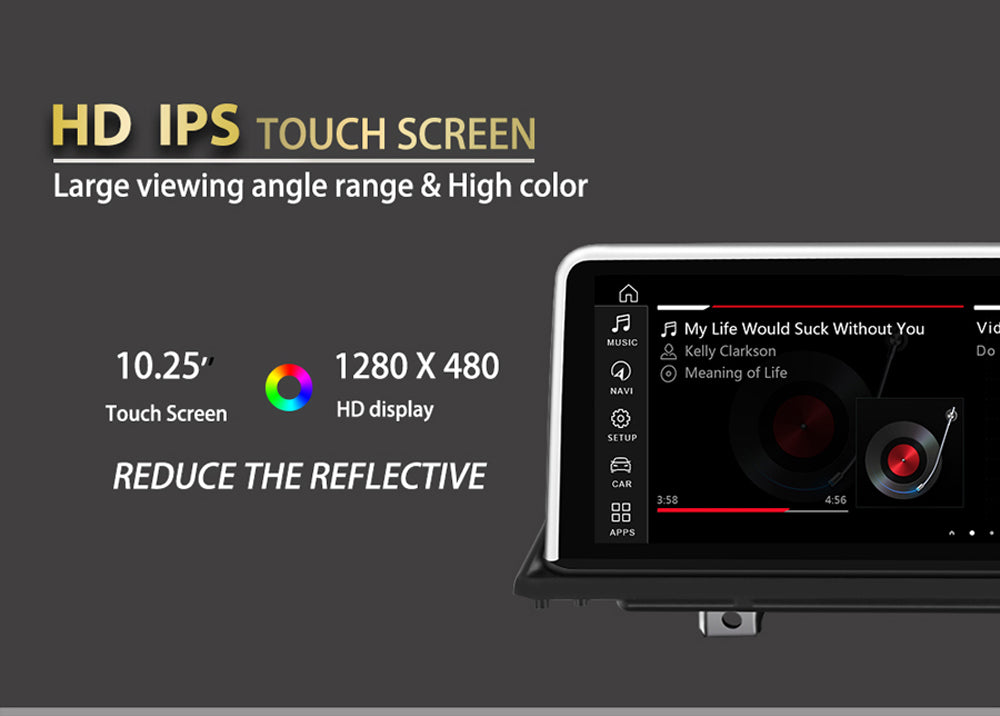 Product Photo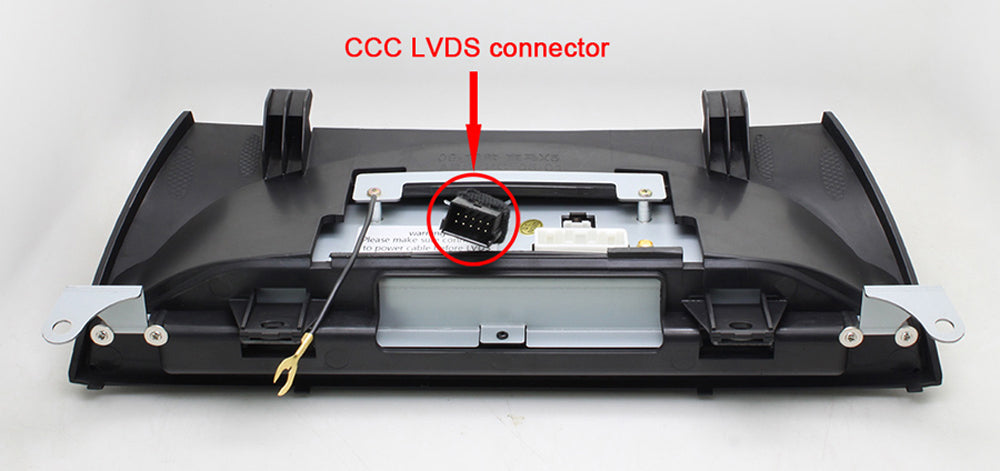 8-core cable
6-core cable

Customer concerns:

1, Shipping area and shipping time
| | | |
| --- | --- | --- |
| Shipping time( working days ) | Countries | TAX&Shipping |
| 3--5 | Austria Belgium Bulgaria Cambodia Croatia Czech Republic Denmark Egypt Estonia Finland France Georgia Germany  Hungary Ireland Israel Italy Latvia Lithuania Luxembourg Netherlands Poland Portugal Romania Slovakia Slovenia Spain Sweden Turkey | Free |
| 3--5 | Hong Kong, Japan, South Korea | Free |
| 5--8 | Australia, United Kingdom, Russia | Free |
| 8--15 | Canada United States  | Free |
Inquire details from service: ewaying@ewaygps.com
2, Payment methods
Now we accept Paypal and credit card payment.You can choose the option when reaching "Paypal" Payment Icon, click into the "Paypal" to choose credit card method. Guide:
Note: the online store apply Anti-fraud system, please carry out the payment in standard way, in case payment is unsuccessful. (cvv verification, address comparation, IP detection, internet environment inspection...)
3, Return and Warranty
Check our policy link: https://ewaying.com/pages/return
4, Share and gain rewards
We like to encourage our customers to share their installing and using experience online. If you want to promote products for us, there are awards for what you have done.
There are two ways to gain awards:
1), We welcome customer and vloger make videos about using and introduction and share it to Youtube, every
10k views gain 100 USD
2), Car enthusiasts are welcomed to promote our products, hand out discount code to gain
3-10% commission
Method: first contact our shopkeeper to get a unique discount code for you, then introduce our products to car forum or other place with text or video. Anyone use the code to buy products will be recorded in our online store system, then contact our shopkeeper to get commission
5), Partnership
we provide high quality trending products and fast shipping with competitive price to our dealers and distributors, for the tech support we have 1 on 1 technician support service, all of these backed up by our strong production logistic chain.  Any interests to get more information about products details and price, please contact ewaying@ewaygps.com